Koka Nikoladze, composer and sound artist who lives in Oslo, presented on 21st November his latest project: Koka's Self-Applauding Machine. An electromagnetic sculpture that can play several sound landscapes self-sufficiently and which, involving the performer and his audience, questions the role of the observer. By "humanising" the robotic, it reflects on vulnerability, the contagious nature of applause and the appeal of catchy tunes.
The work is on display along with two sound pieces by the artist, the installation Operation Manual for a Stick and the mechanical sculpture Beat Machine 7. The three pieces on display offer a view, from different perspectives and using different media, of Nikoladze's artistic practice, which defends the day-to-day as an element for creation. Koka Nikoladze is part of the SOLO project's work to support creative activity, and his work can be seen at the Espacio SOLO.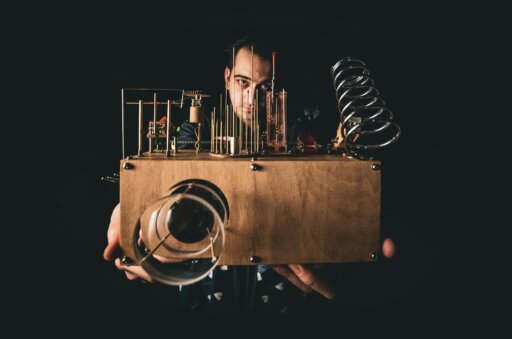 Born in 1989 in Tiflis (Georgia) and currently living in Oslo, Nikoladze is a composer and creator of instruments and sound artifacts. In his work he explores the interaction between sound, objects, and interpretation. His projects encompass everything from kinetic sound sculptures to videocreations and experimental pieces for orchestras, such as his recent Singularity project, produced in 2022 for the Oslo Philharmonic.
His research interests centre on the use of technology in performance, while his fascination for humanising the rhythms of creation can be observed in works such as Operation Manual for a Stick (2022) and his series of videos on synthesizers, entitled Deluge.
The artist's first opera, Vor dem Gesetz (2012), had its premiere at the Stuttgart Wilhemspalais as part of the opening ceremony of the contemporary music theatre, and, in 2016, Nikoladze devised his first Beat Machine, an electromechanical instrument made from found materials, random wires and objects, which generates new rhythmic arrangements each time it is turned on. For the artist, these works are therapeutic: "Whenever I feel overwhelmed, I need to make a new rhythm machine to maintain a small sense of order for a short period of time. That is what drives me."
Since 2019, Koka Nikoladze has been part of the work supporting contemporary creative work by the SOLO project, which seeks to accompany and promote creation, research, and innovation in contemporary art. His works can be seen and heard during any of the free guided tours offered at the Espacio SOLO.
Koka's Self-Applauding Machine
Koka's Self-Applauding Machine (2022) is an electromechanical sound sculpture in which a "soloist" — comprising an engine and paper cup — performs for an "audience" made up of electromagnets. Each time it is activated, the work generates a variation on its melody, eliciting a different response from the "automatic audience" after each performance. This self-sufficient concert hall reflects on the role of the observer, and, by humanising the robotic, it speaks about vulnerability, the shared nature of applause and the appeal of catchy tunes.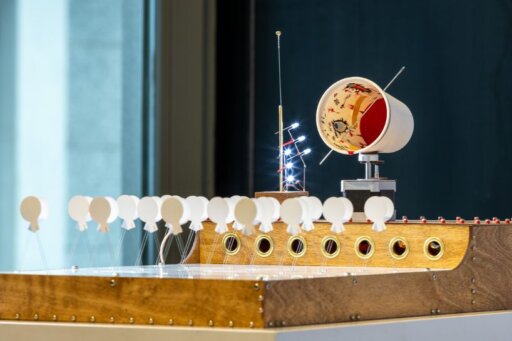 The audience of Koka's Self-Applauding Machine is made up of sixteen pairs of electromagnets soldered to a circuit board with guitar strings. Their delicate appearance contrasts with the intensity of the applause generate. "We take for granted that we can clap. But it is not easy. The way in which a pair of hands come together and push air out to create applause is incredible. Achieving this with small mechanical objects is truly difficult."
To develop the clapping in Koka's Self-Applauding Machine, Nikoladze recorded the audience's reactions at several concerts and read scientific research on clapping as a social or collective behaviour. "To generate organic-sounding, human-sounding, clapping, I had to resort to highly complex programming."
Koka's Self-Applauding Machine is a profoundly personal work, not just because of its base melody. "I felt the need to include some of my personal experiences, in a very abstract way," says Nikoladze, adding that this is a self-sufficient piece: "It has its own performer and audience, so the rest of us are unnecessary.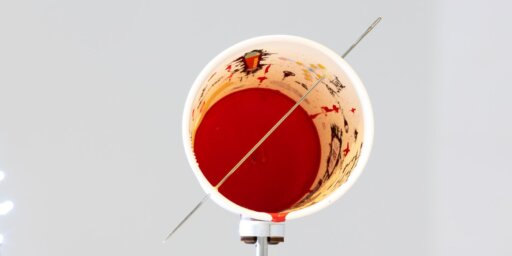 Beat Machine 7
Beat Machine 7 is an electromechanical sculpture that can create new rhythms each time it is turned on. Its side switches make it possible to activate and deactivate the different sections of the piece that produce the rhythms, which, along with the coding developed by the artist, ensures the constant creation of new melodies. Connected to a PC, Beat Machine 7 becomes a musical instrument controlled by software, which means the work can be used in a performance.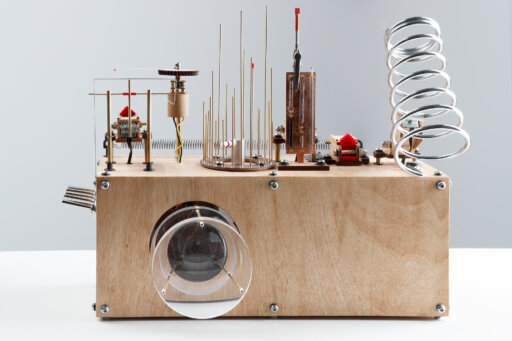 Repurposed day-to-day objects are the starting point of the Beat Machine series, which the artist began in 2016. To produce the work on display at the Espacio SOLO, 'Beat Machine 7', Nikoladze devoted six months to looking for materials and finding the perfect combination of objects and sounds. A support bobbin for soldering, fibreglass inherited from a friend, tin poles rescued from old furniture, a DC motor, and tiny springs are all used to make this sculpture.
An autonomous machine, an instrument and sculpture made from recycled objects, 'Beat Machine 7' brings together many of Nikoladze's areas of interest, such as the interaction of technology and composing, the humanisation of rhythms and the musical potential of day-to-day objects.
Operation Manual for a Stick
Streetlamps, ditches, and trees become elements with great sound potential in Operation Manual for a Stick, an audiovisual piece made up of millions of fragments filmed by the artist in his Oslo neighbourhood.
Using a percussion mallet that a friend gave him about five years ago, a bass mallet and his own fingers, he turned normal urban spaces into musical instruments. The artist covered more than 100 kilometres and recorded over 2 terabytes of fragments, creating a "treasure" full of rhythms and sounds that result in a dynamic and lively melody.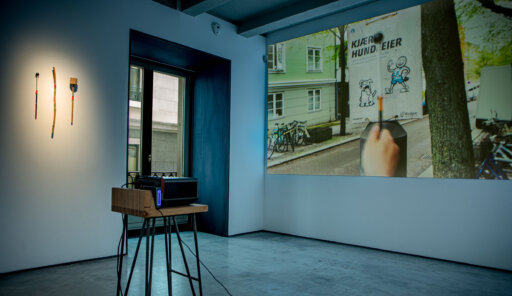 Exhibition view
Energetic, almost frenzied sections, are interspersed with silence, birdsong, and the soft footsteps of elderly passers-by. In the images, a series of stills at eye level, we only see the drumstick or mallet and Nikoladze's hand, putting the viewer in the skin of the artist. Developed as a result of the 2020 lockdown, this musical psychogeography invites us to discover the sound life of the objects around us and take another look at our daily environment.