Colección SOLO joined Untitled Art 2022 (Miami) for the first time with the 'Colección SOLO Acquisition Award'. The ceremony took place on December 1st and the award was given to the following artists: Alba Fernanda Triana, Pablo Benzo and Aglaé Bassens. 
Alba Fernanda Triana (Colombia, 1969)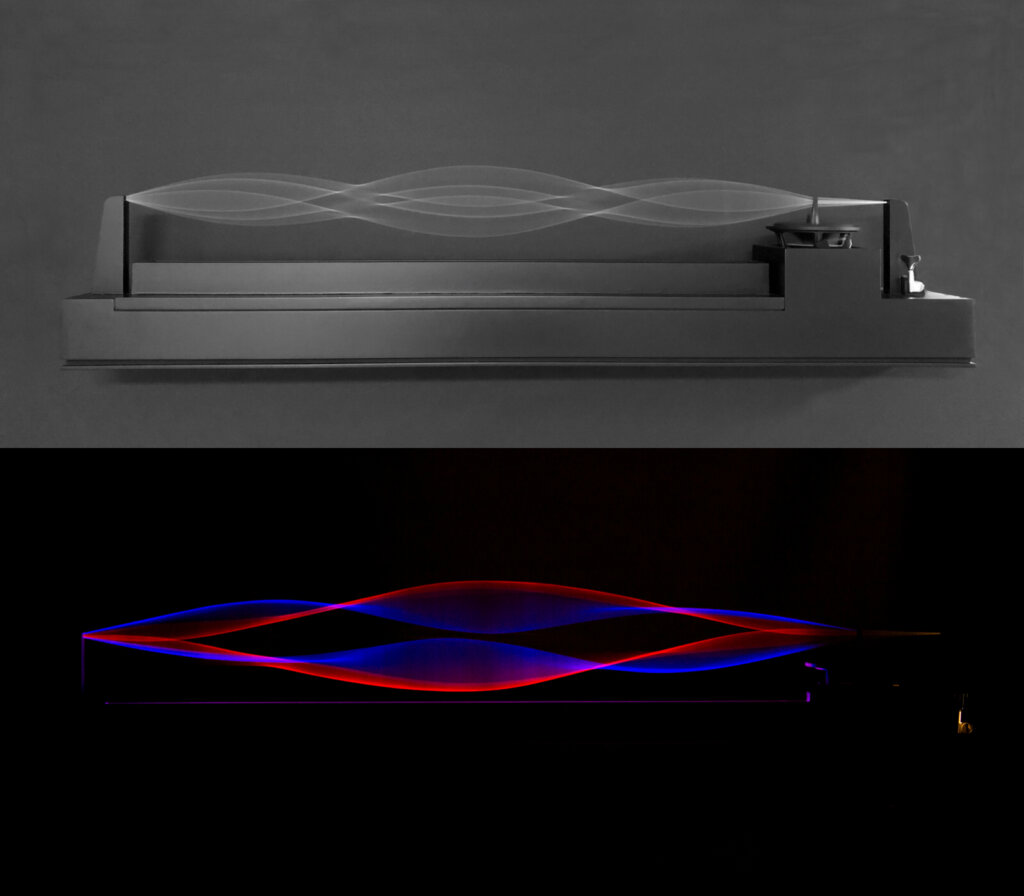 Luminous Phrase A1 L5.
ED 1/5. Music On a Bound String Series – Visible sound interacting with light waves.
8 x 50 x 5 in (20,32 x 127 x 12,7 cm) 
One of the awarded artworks has been Luminous Phrase A1 L5 by Alba Fernanda Triana. A kinetic and luminous sculpture which makes sound visible. Her interest in the intrinsic operation of nature and her musical composition background translate into hybrid, multisensory, self-generating artworks that aim to induce in the viewer a feeling of unity with an integrated wholeness. 
Alba Triana is represented by Casa Hoffmann, an art space in Bogotá. Based on transversality as the epicenter of progress and creative innovation and focused in the relation between art, science and technology, Casa Hoffmann brings together both local and international artists. 
Pablo Benzo (Chile, 1982)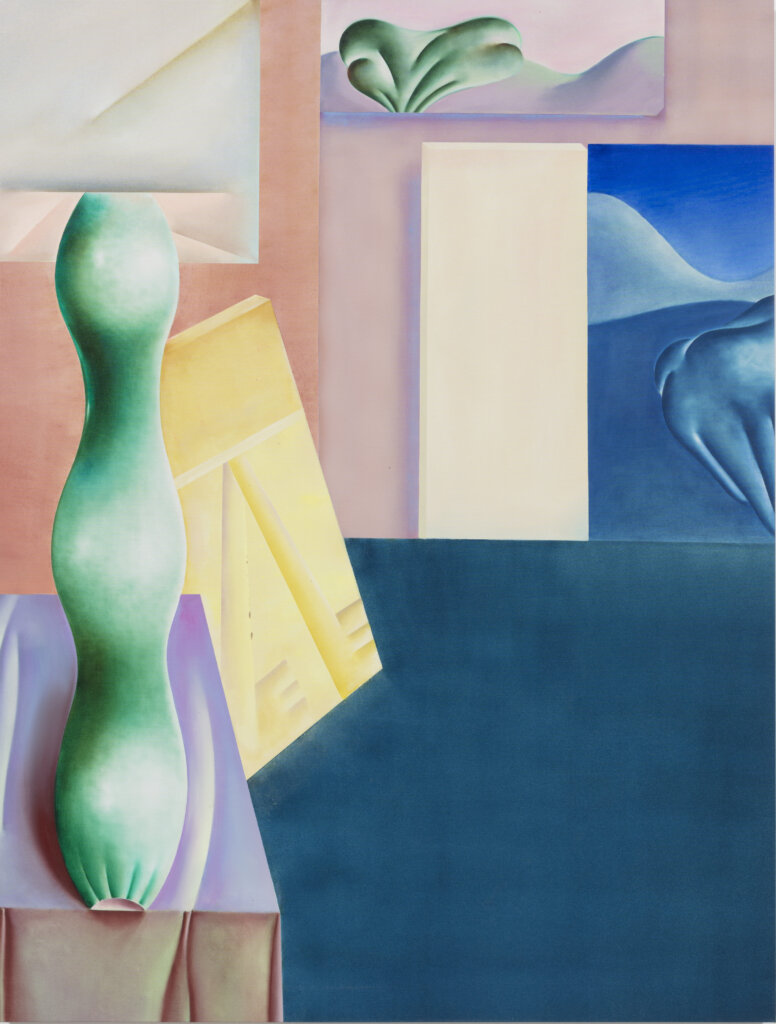 Arrangement in specific moment
, 2022.
Oil on linen. 51 1/8 x 39 3/8 in (130 x 100 cm)
Another of the awarded artworks is Arrangement in specific moment by Pablo Benzo.  Taking a free approach to dimension and perspective, Benzo creates confusing still lives of impossible compositions. The artist plays with volume and saturation to camouflage and highlight certain objects, placing, for example, oversaturated elements on top of neutral backgrounds. In his most recent artworks, Benzo gives his objects an almost human dimension and enhances them with diverse brushstrokes.
This work was brought to Untitled by Steve Turner Gallery, founded in 2008. The mission of this Los Angeles based gallery is to present emerging international artists, but they are also constantly on the lookout for cutting-edge works and conceptually innovative and experimental artists.
Aglaé Bassens (Belgium, 1986)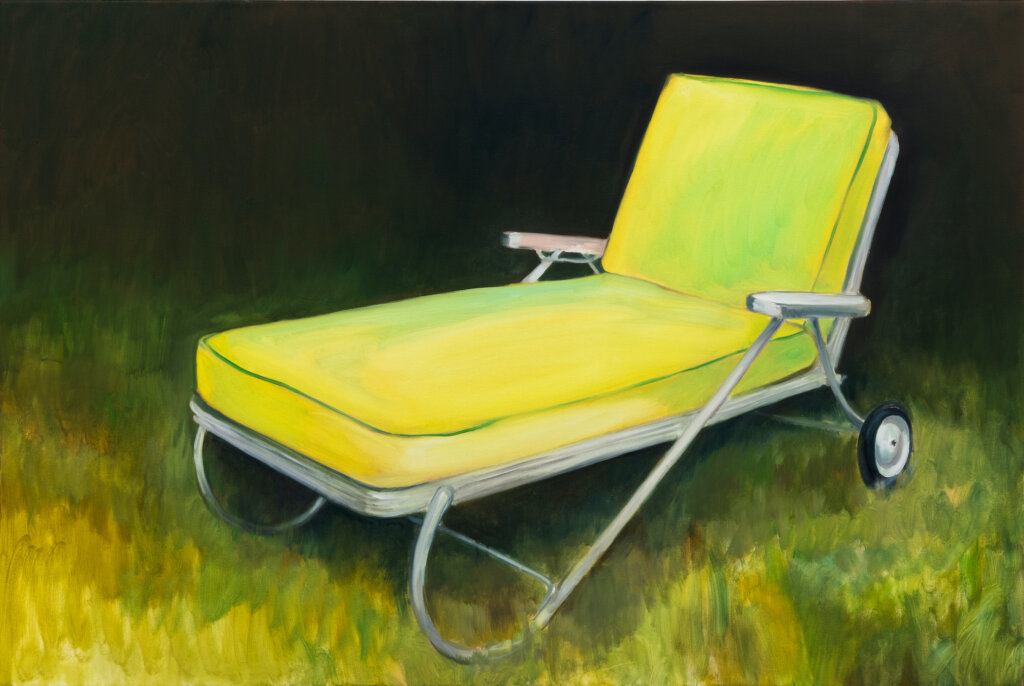 Garden Chaise. Oil on canvas. 32 x 48 in (81.3 x 121.9 cm)
Last but not least, Garden Chaise by Aglaé Bassens has been awarded as well. Bassens, drawing her images from her personal archive, creates compositions that evoke feelings of loneliness and understanding at the same time, resulting in a series of artworks in which the viewer recognizes their own experience. 
Bassens is represented by Hesse Flatow Gallery. The New York-based gallery, founded by Karen Hesse Flatow in 2019, represents emerging and mid-career artists, focusing on solo exhibitions and artistic debuts.
****
Untitled Art is one of the most important contemporary art fairs that converge annually in Miami. A few days where the city overflows with art and cultural events. Aiming to support the wider art ecosystem, Untitled Art offers an inclusive platform for discovering contemporary art and prioritizes collaboration in each aspect of the fair.
Following their mission of supporting and sharing contemporary art, Colección SOLO acquired these pieces and added them to their collection, which already has over 1,000 artworks.