The artists combine their different cultural backgrounds to address the main issues of their generation with an artistic proposal created in an artistic residency on the island of Mallorca.  Over-information, identities, visual over-information and hyper-connectivity guide this exhibition that responds to universal questions through painting, installation and art
The artists, supported by Colección SOLO, an international project to support contemporary creation, and the LA BIBI gallery in Palma de Mallorca, have created a site-specific exhibition in Paris with around twenty pieces. With very different cultural heritages, the two artists have worked together on an exhibition that aims to respond to and create a dialogue on the major generational themes that unite them universally, such as hyper connectivity, visual overload, anxiety and information overload.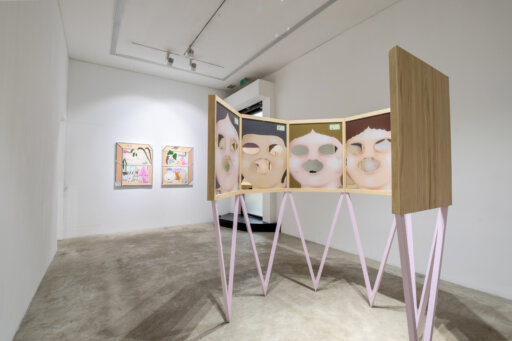 Grip Face's paintings and installations draw inspiration from post-punk, androgyny and alternative cultures to create eclectic and colourful visual worlds that highlight our digital overexposure. Miju Lee, on the other hand, composes interior landscapes where plants, books, butterflies, cigarettes and figurines overlap to form a collection of beings and objects gathered as memories of a lifetime.
During their residency in Mallorca, Grip Face and Miju Lee collaborated for the first time to create a series of new works. The resulting works are both manual and digital, and Grip Face and Miju Lee move fluidly between painting and digital drawing. The works are populated by avatars that explore themes of gender, digital identity and digital anxiety. Inspired by science fiction novels, manga comics, animated films and the underground art of the 1990s in the United States, this artistic proposal invites us to explore the new boundaries of art.