Through 30 international artists such as Keiichi Tanaami, Justin Matherly, Mika Rottenberg, David Altmejd, Grip Face, Glenda León and Paco Pomet and over 63 works that include sculpture, painting, sound art, digital animation and artificial intelligence come together in conversation on the paradoxical appeal of excitement and terror, Colección Solo brings Protection No Longer Assured until December 2023.
The mix of excitement and dread we feel on the edge of an abyss is a paradox which has occupied a special place in Western thought: the concept of the sublime. From the romantic sublime to the more contemporary digital sublime, the term appears in countless situations, stretching even to the description of cupcakes or pastries. Protection No Longer Assured, the new exhibition by Colección SOLO, showing until the end of 2023 at Espacio SOLO Madrid, looks to generate conversation on those things we find attractive yet at the same time, terrifying.
In a present-day shaped by disruptive technologies and disinformation, armed conflict and environmental collapse, Protection No Longer Assured brings together some 30 different artists to revisit the sublime through a range of distinct perspectives and media.
Some 2000 years ago, the Greek rhetorician Longinus set out a theory of the sublime in his treatise, Peri Hypsous. Rediscovered during the Italian Renaissance, then developed by countless thinkers including Nicolas Boileau, Edmund Burke and Immanuel Kant, sublimity has a colorful history. Now, the #sublime tag crops up in the most diverse and unexpected places, threatening to render the concept void through overuse.
Romanticism rebooted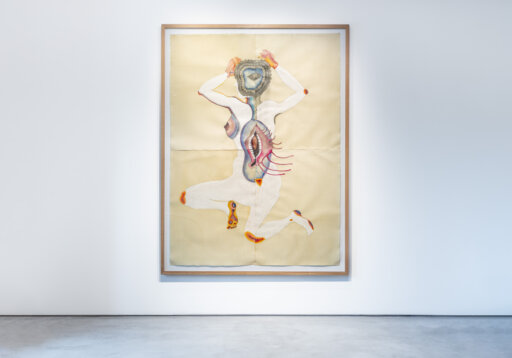 Landscape and human form merge in La Liberación del mito (2022), the artwork by Sandra Vásquez de la Horra which received the Colección SOLO Acquisition Award at ARCO 2023. The artists fuses experiences of political resistance with mystical reflection on the body's chakras or energy centres. Ancient knowledge also feeds into works such as This was the first color (2020) and This was the first gloom (2020) by Jorge Ríos, allegorical first events whose suggested narratives draw on creationist myths.
Immeasurability and power are two ingredients long associated with the sublime. While the Romantics looked to their surroundings for examples, in Protection No Longer Assured the artist Rinus Van de Velde ironizes on their legacy with Luckily I didn't feel much (2019), a parody of Caspar David Friedrich's iconic Wanderer above the Sea of Fog (c. 1818).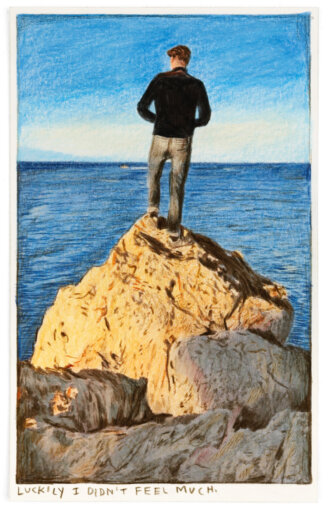 Ghostly figures invade Ruby Swinney's soft landscape, Uninvited guests (2020) while Mika Rottenberg manages to squeeze the universe onto a nail in the kinetic work, Finger (2019). In David Altmejd's sculpture Pyramid (2019), meanwhile, organic processes of transformation shape a contemporary gothic hybrid of businessman and hound.
The digital sublime
Technology, like nature, has long been associated with an experience of the sublime, the contemporary technological revolution infuses with new relevance that blend of attraction and fear which underpins historical notions of the sublime.
Artist are now engaging with AI such as, Lars Nagler, winner of the SOLO AI '23 AWARDS for artistic experimentation with AI tools and the graphic fictions Persistencia de la narración (2023) and Taxia (2023) by the collaborative experimental project Ulyss3s SOLO were also developed using AI image and language generators, and speak to debates on disruptive technologies in the arts.
The robotic takes on a life of its own in Koka's Self-Applauding Machine (2022) by Koka Nikoladze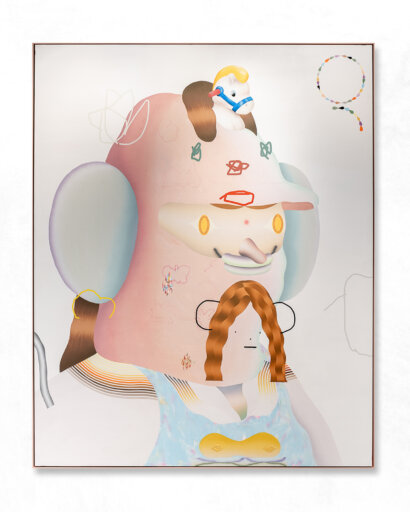 Always-on technology and its mental health effects on the millennial generation and beyond underly works such as I am a victim of social labels (2022) and Disfraz de un verano neoliberal (lilac) (2021) by Grip Face.
The post-nuclear sublime.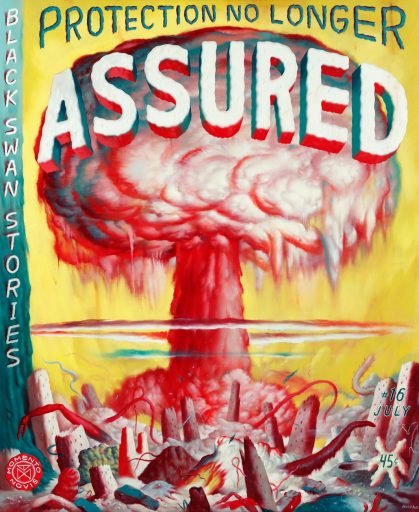 Ryan Heshka's comic-style oil painting, Protection No Longer Assured (2020) — which provides the title for this exhibition — draws on Cold War propaganda and B-movie aesthetics, while its wording immediately brings to mind the military strategy of Mutual Assured Destruction.
Keiichi Tanaami and his Catalogue of Eccentricity Series (2017) bring together 20th-century Americana and rooted in psychedelia — the "chemical sublime" — his garish, explosive scenes often feature references to the bombing of his Tokyo home during World War II.
The emergence of kaiju in cinema — particularly Godzilla, with its atomic breath — can be viewed as a direct pop cultural legacy; creatures transformed by radiation, post-atomic landscapes and hyper technologized futures are recurring motifs in Japanese pop culture from the 1950s onwards, while younger artists such as Haroshi or Motohiro Hayakawa continue to draw on this tradition. Works by  writer and avid toy collector Shane Piacevoli (Ġużè Stagno) evidence the global reach of the kaiju phenomenon.
Bombs crafted of terracotta —Ánforas I (2020) by Dagoberto Rodríguez — reflect on a militarised world in which weapons are a normalised feature of the everyday, while in Paco Pomet's El último día a la hora del té (2020), the protagonists seem oblivious to the mortal danger they face. Justin Matherly, meanwhile, presents a huge lion — typically a symbol of power or strength in Western democracies — as a vulnerable creature, mounted on orthopaedic walkers and Glenda León reflects a present-day of fake news and rising populism with Incendiary Discourse (2021), a typewriter whose arms have been replaced by matchsticks set to strike sandpaper.